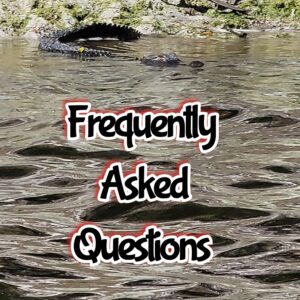 You will find a list of the most frequently asked questions here, in no particular order.
What time is check in? 1 pm for wilderness and campsites. 
What time is checkout?  11 am.  You may pay $15 for a late stay if it's available.  There are times a camper will be checking in on your site so it must be vacated to accommodate the next guest.
Can I come camping without my parents if I'm a minor?  No, all guests must be 18 years or older to come without a parent or legal guardian.  If you come in without them, we'll ask you to leave. Your parents or guardian must be over the age of 25 to sign you in and are responsible for signing your waiver if you're under 18.
Can I run a generator? No. Generators are not allowed anywhere inside Peace River Campground. You will be asked to shut if off, if you bring it.
Can I drive to my site?  Yes, everyone is able to access all sites by car. Wilderness area can get very sandy and you may get stuck at certain times of the year.  4 wheel drive is recommended in many parts of the wilderness, especially since Hurricane Ian
Can I drive my atv, golf cart, sxs to the showers after hours?  No, you may not.  You will have to drive your car.  Atv's must shut down at dusk. Golf carts and SXS can ride until 10 pm.  If you are caught riding after 10 pm, you may have your wristband revoked. No riding before 8 am.
Can I bring a loud sxs or atv with aftermarket muffler? No, all sxs and atv's must have stock mufflers.  We will tell you to park it for the duration of your stay, if it's too loud.
Does it cost to ride? Yes, all campers must pay $13 for a wristband and sign a waiver.  Wristbands are to be worn on the left wrist only. No exceptions. Wristbands are a one time fee and good for the duration of your stay, unless revoked. If revoked, you may purchase a new one the next day.
Can I visit my friends?  Yes however it costs to visit.  If they are camping on a full hook-up site, it cost $15 per adult to visit.  Each site can have a max of 6 guests.  If visiting wilderness, it cost $24 per adult. If riding on any recreational vehicle, you must fill out a waiver and purchase a wristband for $13.
Can I bring my dogs? Yes, however no aggressive dogs.  All dogs must be friendly, well mannered and picked up after.  This applies for the entire campground.
Can we just come for the day and ride? Yes, you may for $24 per adult. 2 free kids per adult under 17, in your household, are included. Wristbands are required to ride and costs $13 per person, all ages.
Why can't I drive my atv after dark?  Atv's may only be ridden until dusk due to safety reasons.  Side by sides have a roll cage and seatbealts.  Atv's do not.
How many tents/RV's can you put on a site in the campground?  You may have one tent or family (living in the same household) in a tent.  2 families require 2 sites, and so on. Tents and RV's may buddy together. Be sure to put in the "notes" section on your reservation that you want to "buddy" with your friends or we'll have no way of knowing. 
What can I bring to ride?  We allow golf-carts, side by sides and 4 wheelers/atv's.  You may not bring dirt bikes, mini bikes, swamp buggies, jacked up mud trucks or jeeps, 3 wheelers, 3 wheel golf carts, dune buggies or any excessively loud recreational vehicles.  If we deem it too loud, you will be asked to park it for the duration of your stay and not bring it back. Any full size vehicles trailered in, may not ride our trails.  Street legal Jeeps may drive to the beach and stay on main roads.  Trails are only for atv's, sxs and golf-carts only.
Can I ride my atv, sxs, golf cart anywhere I want?  No!  There is absolutely NO RIDING IN RIVER, especially at the BEACH.  Also, you may not leave the property by driving out the front gate past the food trucks.  If you leave the park, your wristband will be revoked and you will have to wait until the next day to purchase a new one.  Our rental carts are only allowed on the main roads, not on trails and not in the river.  Your cart may be taken from you if you break the rules. Our rental carts require a licensed driver to be on the cart at all times.
Do you rent atv's and sxs?  No, we only rent golf carts.  However, golf carts are rented on a first come basis and may not be reserved ahead of time.
What is the cancellation policy?  You may cancel your reservation for a full refund by replying back to your confirmation email. Please give at least 2 days notice. Calling the office, or messaging on Facebook, Google or Instagram will not cancel your reservation.  It must be emailed in writing to store@peacerivercampground.com
How high is the river?  You may find the river level by searching USGS Peace River, Arcadia https://waterdata.usgs.gov/nwis/uv?site_no=02296750
Can I fossil hunt anywhere?  No, not anywhere. You may search for fossils IN the Peace River only.  There is NO DIGGING HOLES in the river banks.
What entertainment and food trucks are coming?  You may find all the our entertainment and food trucks on our "Upcoming Events" page on the calendar.
Do you have free wifi?  No, we don't offer wifi in our park.
Do you have parking for my utility trailer if we come for the day? Yes, we have overflow parking near the loading ramp for day riders. There is NO PARKING at any shelters for day riders.
Can I have a campfire? Do you sell firewood?  Yes, small campfires are permitted.  Some sites have fire rings.  If there's not a fire ring, build your fire in a previously used spot. We sell firewood at the camp store.
Do you have picnic tables or fire rings in the wilderness? No, we do not. The wilderness is primitive land where you bring all of your own supplies. If there was previously a fire on the ground where you are camping, start a new fire in the same spot. Never leave campfires unattended. And always remember to pick up your trash. Leave No Trace.